An association of motorcycle enthusiasts in the city is preparing to seek remedy from the court should the Land Transportation Office (LTO) will impose Administrative Order 2008-015 prescribing the rules and regulations for the use and operation of motorcycles on highways comes September 1, 2008.
A military transport aircraft bound for Iloilo City crashed Monday evening in the sea waters off Davao City. Two pilots and seven crewmen of the Philippine Air Force (PAF) are feared dead with debris in the crash site confirmed seen yesterday morning.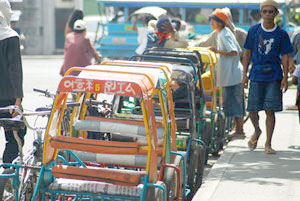 A.CHRIS FERNANDEZ
Iloilo City Mayor Jerry P. Treñas has lauded the Department of Environment and Natural Resources (DENR) for taking action on the application for environmental compliance certificate (ECC) of the Global Business Power Corporation (GBPC) to put up a 164-mw coal fired power plant here.
Secretary Jose L. Atienza during his visit here Friday committed to sign the approval of the ECC upon his return to Manila.
The mayor said he was pleased with the action as he hoped that the plant will become operational in 2010 when the city is projected to experience power shortage.