ROXAS CITY – A hard-hitting anchorman of the Radio Mindanao Network (RMN) here was shot dead by two gunmen yesterday, just three days after a broadcaster of the same radio network in General Santos City was also attacked.
Military intelligence units and the Armed Forces of the Philippines (AFP) here are bracing for planned attacks on 13 towers or cellsites of two major cellular phone companies.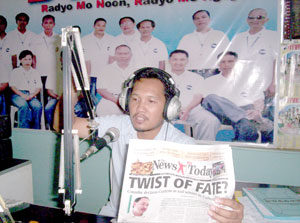 The National Union of Journalists of the Philippines (NUJP) deplored the killing of broadcaster Martin Roxas, coming after the attack on Radio Mindanao Network (RMN) anchorman Dennis Cuesta in a crowded mall in General Santos City last August 4. Cuesta remains in critical condition.