BORACAY ISLAND, AKLAN—Braving persistent rains, around 700 residents, resort owners, land occupants, including foreigners, joined a protest rally here on Friday to oppose a bill that categorizes more than half of the island as public domain and open for disposition.
Give credit to where credit is due. Especially if evidence are submitted and exhibited.
Such is now the personal appeal of colorful Ilonggo, Mel Carreon, who has since gained local, national and in a way, international recognition.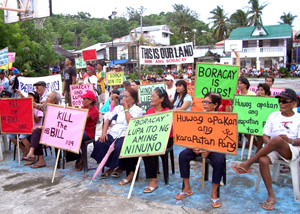 nestor p. burgos jr.
A private company will start salvaging today the cargo vessel MV Ocean Papa which sank off the coast of Malalison Island in Culasi, Antique during the onslaught of typhoon Frank last June 21, 2008.
Commander Harold Harder of the Philippine Coast Guard (PCG) Western Visayas told Bombo Radyo in an interview that Oceanic Container Lines, owner of the sunken vessel, hired CJ Gaspar Salvage Company to undertake the salvaging operations.