House Speaker Prospero Nograles asked the Catholic church heirarchy to lobby for what they want relative to the proposed Reproductive Health Act instead of threatening the members of legislature against voting for the said bill.
All's well that ends well for Iloilo's northern towns recently rocked by talks of "Nazi rule" here. This, after a successful peace talk brokered over the weekend by the Philippine National Police (PNP).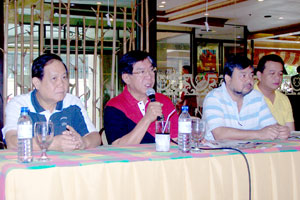 EC GARCIA
Resort owners on the world famous island of Boracay have denied rumors that remains of missing passengers of the sunken MV Princess of the Stars have been washed ashore on the island amid cancellation of bookings of guests.