Newspaper advertisements showed a smiling President Gloria Macapagal-Arroyo with the Philippine Flag as background. Then in bold letters, "LABANAN ANG KAHIRAPAN (Let us stage a fight against poverty)," followed with the message, "Magtulungan tayo laban sa kahirapan (Let us help each other battle poverty)." And finally, the tagline, "Kahit saan, kahit kailan, maaasahan. (Anytime, anywhere, dependable)"
Forty eight Fourth Grade pupils of a public school in Barangay Igtubli, Tubungan, Iloilo and seven others from a nearby barangay here were rushed to the hospital yesterday.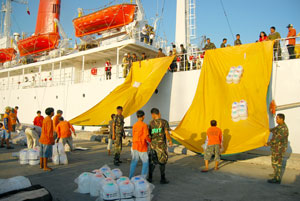 A.CHRIS FERNANDEZ
Rising fuel and production costs have resulted in a slump in business investments in Western Visayas this year.
Investments based on the Business Name Registration (BNR) dropped by 39 percent to P1.153 million in first quarter of this year from the P1.882 million recorded in the same period last year, according to the first quarter regional economic situationer released by the National Economic Development Authority (Neda).