An order is out from the region's top cop, Police Chief Superintendent Isagani Cuevas, calling for the immediate halt of all and any police checkpoints particularly in Northern Iloilo. While at it, the separate order too, for the Iloilo Provincial Police Office (IPPO) director to conduct an investigation and validate the numerous complaints against one of the province's senior police officials.
Land Transportation Franchising and Regulatory Board (LTFRB) regional director Porfirio Clavel called on operators and drivers of public utility vehicles in the region to wait for the issuance of fare matrices before charging the passengers of the new fare rate recently granted by the National Economic and Development Authority (Neda).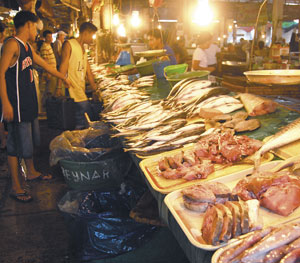 A.CHRIS FERNANDEZ
Iloilo's fishing industry faces its biggest challenge yet as it rebuilds from the damage brought by typhoon "Frank."
Industry players said it would take from five to six months to recover from the damage after the worst flooding experienced on Panay Island.
Provincial agriculturist Ildefonso Toledo said the flooding brought "very significant" losses to fish producers especially fish pond operators after flood waters washed out dikes and fish pond structures. Large volumes of ready-to-harvest stocks were also lost after the fishponds overflowed.