Maria 'Oyog': A contemporary yet deeply rooted T'boli woman
* "I realized that when people start to throw stones at me, they are actually throwing bricks that help me build my mansion"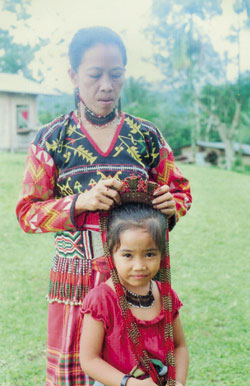 Her life is as vibrant as the colors of her traditional dress. The carved headdress serves as crown of pride of being a woman and a community leader. The intricate designs of the Tinalak elaborate the wisdom sought from her experiences. The voice that comes from her soul when she chants is lullaby for her children. A belt of bells are like medals around her neck for the recognition and applause for her grace and poise in dancing. The heaviness of brass bracelets and anklets reflects her hardship to preserve and promote their culture and as wide as the lake of Lake Cebu are her visions and dreams for her land and her people. Indeed, Maria "Oyog" Todi maintained her equipoise as a mother, an artisan, a leader and a living treasure.
Contemporary Woman
How about as a wife? Looked up by the community as a role model, Oyog's moral fortitude was again challenged by a failing marriage. She is torn between keeping her marriage and her advocacy to uphold her culture. But then keeping her marriage meant a sacrifice for her identity and respect she deserves and pursuing her advocacy meant a brighter future for the T'boli women and children. To do both is impossible because her partner does not support her cause but instead abuses her with words unworthy for her status.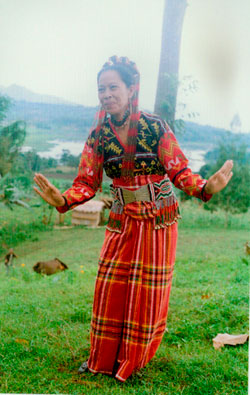 Last May 2007, she ran for Municipal Councilor in Lake Sebu, South Cotabato, but at the last minute she declined after her husband's outrage in their party's headquarters. She deemed that she is not worth running when she propagates women's rights if she herself is a victim.
Taking a stand, she filed for divorce in the Council of Elders. Her reasons were reconsidered and resolved with her returning the dowry in double and giving up her properties in exchange of her children's custody. Most importantly, the freedom to pursue her vision for a self sustaining community independent from "dole out mentality".
"Life after divorce is like turning another page of my life, another chapter full of hopes and dreams" says Oyog.
Oyog is a mother of four --- Kaykay 17, Jayjay, 15; Henz 9 and Andy, 6. She said that the children are now happier and worry-free. Kaykay and Jayjay clearly understood their mother's decision while the two young ones are not bothered at all.
"I realized that when people start to throw stones at me, they are actually throwing bricks that help me build my mansion."
Deeply Rooted
Selflessly, she devoted her life as a cultural worker besides being a mother. With her overflowing love for her ancestors and to their culture, she was responsible for the exposure of T'boli to the world. Last 1994, she organized a Performing Arts Group called the Helubong Cultural Dance Troupe and they performed to other countries like France, Spain and Japan to raise funds. After a year, the group evolved and became the Kesetifun Cultural Care Foundation uplifting livelihood, prioritizing education and protecting the culture from exploitation and the prevention of western permeation. The foundation helped the School for Living Tradition to sustain itself. For the first two years, she volunteered as a School Supervisor and before she left last 2001, the SLT was institutionalized as SIKAT School for Indigenous Knowledge and Tradition serving Grades 1-6 with a curriculum in culture and tradition including bead making and brass casting.
"Do not wait for assistance from the government, do not depend on POs and NGOs. Instead, strengthen your community, value your culture as much as you value your life and aim for a self sustaining community." Oyog encouraged tribes from Oriental Mindoro, Panay and the Cordillera during the Kapwa Conference in UP Iloilo last June 28 to 30.
Like a modern woman, she values her right as a human being worthy of respect and decided to let go of the man who failed to give her that kind of respect every woman deserves. She works hard to make a living never neglecting her responsibilities as a mother. She accepts change and the idea that globalization is inevitable. On the other hand, she is confident that the T'bolis are well established, deeply rooted as the Basag Nofoc Tree.