KALIBO, Aklan— Residents of this quiet and peaceful town are desperately crying out for food, water and other assistance more than a week after typhoon Frank ravaged Western Visayas.
Department of Budget and Management (DBM) Secretary Rolando Andaya Jr. yesterday asked Pres. Arroyo for him to be given authority to conduct "performance evaluation" of the budgetary needs of the different national agencies relative to the relief and rehabilitation efforts in the typhoon-ravaged areas in the country particularly on Panay island.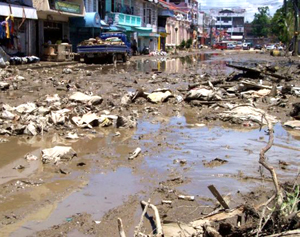 Nestor p.Burgos jr.
Normalcy has been restored in the affairs of the Legislative Department of the Iloilo Provincial Government.
Forced to 'slow down' after Typhoon Frank hit Iloilo and the entire Panay Island, several scheduled investigations and committee hearings were postponed last week.
Yesterday though one of the hanging probes was firmed up and set to be heard next Thursday.