The Department of Trade and Industry (DTI) Iloilo provincial office has ordered a "price freeze" on the selling price of water being sold at water stations.
To avoid further loss of lives and properties during typhoon, Mayor Jerry Treñas wants the thousands of informal settlers living on the waterways to transfer to the city's 16-hectare relocation site in Barangay San Isidro, Jaro soonest.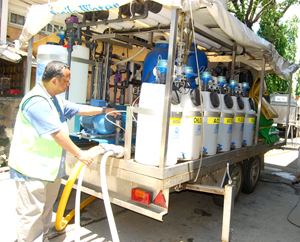 A. CHRIS FERNANDEZ
Former President Joseph "Erap" Ejercito Estrada and party were in town yesterday bearing relief goods for thousands of Ilonggo families affected by Typhoon Frank.