Ninety-nine families in Cabatuan, Iloilo want the government to pay for the damages brought by Typhoon Frank to their community. Damage for the lots awarded to them, housing units built and every piece of furniture and household appliances bought by each family.
Hotels and other businesses are making a windfall in the aftermath of the massive flooding that hit this city last week.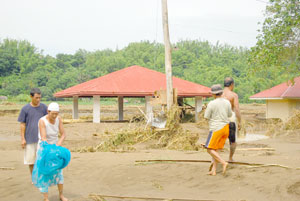 A. CHRIS FERNANDEZ
A water treatment plant from Manila Water Company is currently being used to address the shortage of water from Metro Iloilo Water District (MIWD).
Three more water treatment plants are expected to arrive this week – two coming from the Spanish Embassy and one from the National Power Corporation.