Fresh from an official trip abroad, City Mayor Jerry Treñas is back to work facing the gargantuan task of making the city recover from the devastation brought by the flash flood caused by typhoon Frank over the weekend.
City Mayor Jerry Treñas warned all water refilling stations in the city from drastically increasing the price of water they sell, otherwise they would be closed.
The city is currently facing water shortage problem in the aftermath of typhoon Frank.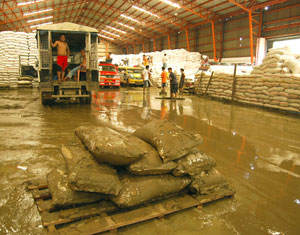 A. CHRIS FERNANDEZ
The News Today (TNT) lay-out artist Ely Pineda. Davao City-based Ilonggo businessman Jose Padama and wife Daisy.
Seattle-Washington-based Filipino-American couple Rudy and Sally Ramos. Manila-based Ilonggo professional Linc Drilon. A german shephered dog. A snake. An uncanny group yet banded by the shared spirit of generosity, compassion, inspiration, grace under pressure, and in the case of the dog and the snake, seeming angels of young Typhoon Frank victims.