Rescue and relief agencies and groups in Western Visayas scrambled to help victims of typhoon "Frank" in what officials described as the worst flooding experienced in the region.
Officials who play major roles during typhoon occurrences were caught flat-footed when typhoon Frank lashed the city over the city affecting 102 barangays. The district of Jaro was badly hit as several barangays were submerged in water.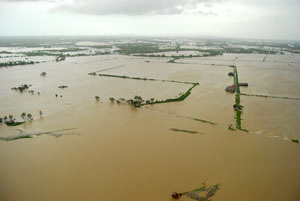 A.CHRIS FERNANDEZ
Janiuay, located in the central part of Iloilo, is among the hardest hit with casualties expected to be highest. Mayor Ben Margarico in an interview told Bombo Radyo that at least 19 are confirmed dead and hundreds feared missing. Included in the missing is a family of five whose entire house was carried upstream and personally seen by the mayor to have hit the foundation of the Suage bridge. He recalled seeing numerous others waving for help with frantic looks of desperation.