Sentiments for and against the transport strike of provincial jeepneys highlighted yesterday's special session of the 9th Iloilo Sanggunian Panlalawigan (SP).
The city's top intelligence officer is placed in hot water for sending text message to a radio station that allegedly implies significant information that could shed light on the identities of suspects who left three fragmentation grenades under a cottage of Tatoy's Manokan in Arevalo last Sunday.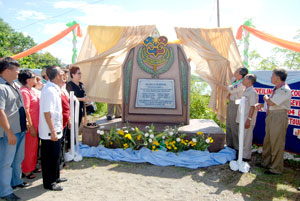 A.CHRIS FERNANDEZ
"Let us honor them… they have not died in vain."
Such were the words that highlighted the message of San Joaquin Mayor Ninfa Garin as the town remembered seven boy scouts who lost their young lives in a tragic jamboree here.
Nationally-admired artist Nemi Miranda worked on a Scout memorial marker unveiled yesterday in honor of the seven.