Sirens and non-stop blowing of horns were heard at the height of yesterday's Independence Day celebration in Iloilo City. With provincial delegates in floats participating as well, order of the parade also turned seemingly confusing, both for the participants and the watching-public.
Catholic Bishops Conference of the Philippines (CBCP) and Jaro Archbishop Angel Lagdameo said that while the country celebrated the 110th anniversary of its independence yesterday, the people are still enslaved by poverty, injustice and graft and corruption.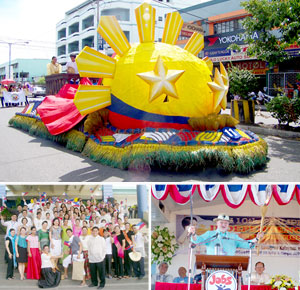 A.CHRIS FERNANDEZ and KATHY VILLALON
June 10, 2008 was not just an ordinary opening of school for the people of seven barangays in Oton, Iloilo. On that day was the birth of the first-ever high school that would serve Cambitu, acronym for the cluster of barangays located near the boundary of San Miguel town, namely, Barangays Caboloan Sur and Norte, Abilay Norte, Bita Sur and Norte, Mambog, and Tuburan.