Solicitor-General (SolGen) Atty. Agnes Devanadera warned the Office of the Provincial Sheriff from executing the court order issued by Branch 31 of the Iloilo Regional Trial Court that would lead to the eviction of a public elementary school here, otherwise her office "shall deal with the matter with the full force of the law."
Nineteen out of 21 teachers in an elementary school in Batad, Iloilo signified its collective call for the immediate ouster of their principal.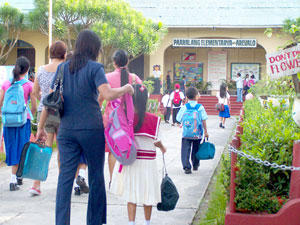 A.CHRIS FERNANDEZ
Education Undersecretary Ramon C. Bacani Tuesday said it is issuing a circular over a petition of public school teachers to perform just six hours of work daily.
The teachers have complained that their daily work grind is too heavy for underpaid civil servants and that they deserve better treatment.