Elementary school pupils may not be able to receive their free school bags from the city government in the opening of classes on June 10, 2008 as the Bids and Awards Committee (BAC) has yet to bid the P3.8 million project.
Immediate formation of a composite team. Immediate repair of severely-damaged road sections. Directive for the prohibition of asphalt-overlay in damaged roads because of heavy-loaded trucks.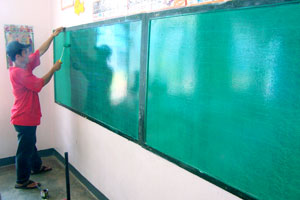 A.CHRIS FERNANDEZ
Owners of different perimeter boundary terminals in the city yesterday assured that they will upgrade and develop their terminals in compliance with the Perimeter Boundary Ordinance.
The assurance was made by terminal operators in yesterday's meeting called by Mayor Jerry Treñas.