The sudden hoopla generated by a web-based escort service of Ilongga students and teeners may carry the "tourism" tune. Yet for the region's top Tourism official, the website, its services and the young pretty women in it will never be part of the government's tourism thrusts.
An organization boasting as "one of the most reputable and well-known escort agencies" is now operating in Iloilo City. Tourist-haven Boracay Island, Guimaras and Metro Manila are also listed as added "current areas of service."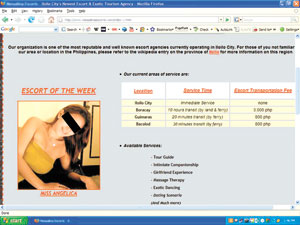 A.CHRIS FERNANDEZ
A people's organization was formed in one Iloilo town with main objective to defend local communities from hostilities and harassments of the Communist Party of the Philippines-New People's Army-National Democratic Front (CPP-NPA-NDF).
With apparent "eye-for-an-eye, tooth-for-a-tooth" guiding policy, the group banded as Bantay-Bayan Federation and Cooperation Incorporated. First to launch is the town of San Miguel, Iloilo, 16 kilometers off Iloilo City, with more towns to follow suit in the coming weeks.