Bring the culprits – whoever they are – to the arms of the law.
Such was the call of Fifth District Board Member Jett Rojas, cousin of slain Ajuy Vice Mayor Ramon Rojas Jr.
Former City Councilor Joshua Alim has called on the Iloilo City Council, under the leadership of Vice Mayor Jed Patrick Mabilog, to conduct an investigation on the P480 million Infante flyover.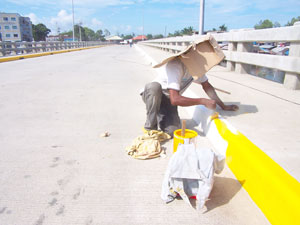 A.CHRIS FERNANDEZ
Iloilo towns where water is drawn by the Metro Iloilo Water District (MIWD) will get its share of MIWD profits. That is -- if and only if the Commission on Audit (COA) will give its "definitive statement" declaring such as valid and legal.