Search and rescue teams have failed to locate at least nine missing crew members of a cargo ship believed to have sank off the coasts of northern Panay on Friday.
Hampered by huge waves and strong winds, Coast Guard personnel, volunteers and local government units are on the lookout for survivors from the M/V Edago Enterprise which went missing Friday afternoon.
City Mayor Jerry Treñas has directed the Iloilo City Urban Poor Affairs Office (Icupao) to assess the danger zones in the city occupied by informal settlers. At present, there are 3,296 informal settlers living in the waterways.
Treñas's directive came as an offshoot of the flash floods that hit the city, particularly the districts of Jaro and Lapaz, last week.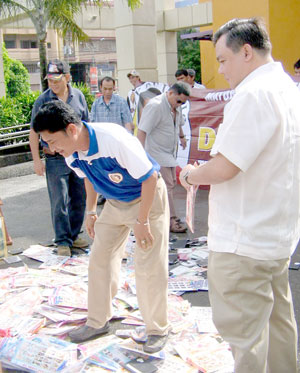 PIO PHOTO
The Archdiocese of Jaro has launched a fund-raising campaign for victims of the separate calamities that have ravaged China and Myanmar (Burma).