ROXAS CITY -- From a minimum of three years to a maximum of ten, farmer-groups, experts and advocates had a similar call on the proposed extension of the government's Comprehensive Agrarian Reform Program (CARP).
For supposed sleepless nights in late September till November of last year, purported wounded feelings and alleged besmirched reputation, at least P1million in damages is sought from broadcaster Rhoderick "Rhod" Tecson.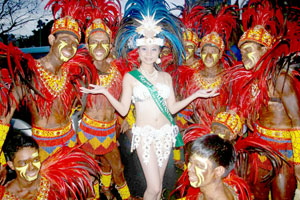 PALI PHOTO
Though Iloilo's Dinagyang Festival represented by Tribu Paghidaet failed to get the grand champion award, it remained as the crowd's favorite from among the 23 festivals that competed Saturday for this year's Aliwan Fiesta competition. The audience was awed by the performance of the contingent from Iloilo.