City Mayor Jerry Treñas yesterday called on the city's business sector to help lobby with the national government for the transfer of National Power Corporation's (NPC) Power Barge 104 from Davao City to augment the growing power needs of Iloilo City.
The public is warned against an impostor using the name of Police Regional Office (PRO) 6 Regional Director Chief Supt. Isagani R. Cuevas in soliciting cash donations for an alleged heart transplant operation sponsored by PRO 6.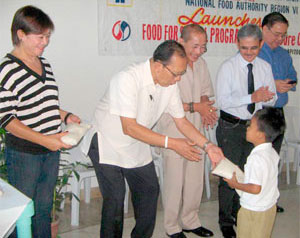 DSWD PHOTO
After some six months into retirement from government service and six months away from the Capitol, retired Police Senior Superintendent Juan Mabugat made a comeback yesterday.