To the World Bank – thanks but no thanks. To the Metro Iloilo Water District – bid goodbye to $150,000 and while at it, pay up three Iloilo towns.
Wonder why brownouts frequently occur in the city and in the municipalities the past few days? National Power Corporation (NPC) explained that the Cebu-Negros-Panay (CNP) Grid is currently experiencing generation deficiency due to the emergency shutdown of Cebu Thermal Power Plant 2 (CTPP-2).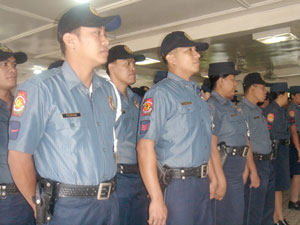 PRO6-PIO PHOTO
The Police Regional Office (PRO) 6 launched its project towards quality public service yesterday at Camp Delgado, Iloilo City dubbed as "Mamang Pulis / Aleng Pulis, Serbisyong Tama at Malinis".