PASSAD: Bringing Ilonggo workmanship to the world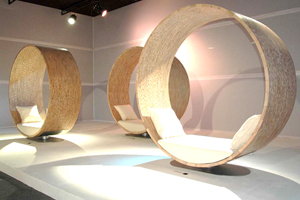 Le Cirque chairs on Exhibit at Manila Fame 2007
* " Ilonggos think that if it's Ilonggo-made, it looks like something you buy from Central Market. I feel sad about this mentality"
When abroad, have you ever marveled at the workmanship of a furniture? And despite being expensive, you buy it anyway because you want to have that in your home as well as boast to friends that you imported such fabulous piece from, say, Italy? But what if that furniture, in reality, was made here in Iloilo City, exported to a foreign land and sold by wholesalers again, only to be bought by another Ilonggo?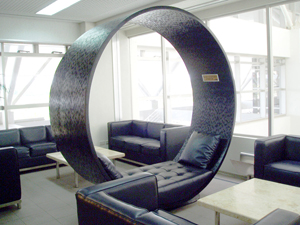 Le Cirque chairs at Coffee Break, Iloilo Airport
Most world-class furniture were crafted by the adept hands of Filipinos. Ilonggos are not far behind when it comes to world-class expertise. Passad is an example. Located in Barangay Buhang, Jaro, Iloilo City, Passad has been in existence for 12 years and had been in the export business for five years. Get to know more about it through this interview with Gemma Larraga Lee, owner of Passad, vice president for External Affairs of the Iloilo Furniture Manufacturers Association (IFMA) and vice president for Chapter Development of the Chamber of Furniture Industries of the Philippines.
Kathy M. Villalon (KMV): How did Passad get into furniture manufacturing?
GL: It was Johnny Que of Que Solutions who had been instrumental in our being in the export business. At first, it was my husband who sub-contracted with Mr. Que and he was the one who was active in shows. Later, when I decided to join, I enjoyed it.
KMV: What pieces do you specialize in?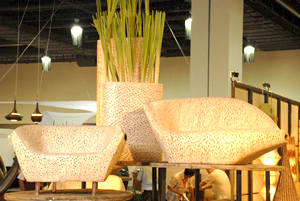 The exhibit at Manila Fame 2007
GL: We started making small things. Later on, we concentrate on big pieces. As big as seven feet in diameters. For example, we create chairs that are as big as six feet in diameter. We call them oversized items. I call our furniture as "occasional furniture." I'd like to erase the concept of "terno." I don't believe that if you have a sofa, you need to get chairs of the same material and make to go with them. My work is a lone piece. It's a conversational piece. My work's tactile.
KMV: What other reason led you to venture into occasional furniture making?
GL: China had been mass producing items, so I believe I had to do niche marketing. It may be a small market, but there's a market. That's why I consider my works as sculptural because they are not mass produced.
KMV: Where does Passad export?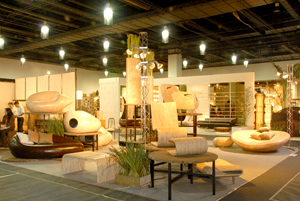 at the exhibit
GL: Mainly in Europe now.
KMV: And at what price do some countries sell your product?
GL: For example, in Italy. They multiply it by 5. So, my P80,000 worth of furniture would cost five times over when in Italy.
KMV: What materials do you use and how are they produced?
GL: I started to combine stainless steel with wicker and gemelina. I love using gemelina because if in winter, it does not break. When I was abroad one time, I witnessed that wood like bamboo and narra just pop during winter. Also I use materials that are renewable and sustainable.
KMV: What awards have Passad gained?
GL: Likhang Pilipino Best Design for Furniture at the Philippine International Furniture Show 2008 and KATHA Award for furniture at the Manila FAME April 2007. The latter is hard to get because you are competing with thousands others.
KMV: You have come to be an icon of the Iloilo Furniture Manufacturers Association, even if you are no longer its president. Do you love this job?
GL: Yes, I love this business.
KMV: Why?
GL: It's fast-paced and very challenging. The work here is non-stop. While we are preparing for an upcoming show, we are already in talks about the next show that will happens months later. You are constantly trying to come up with ideas that are innovative. Also, I'm a non-conformist. This business allows me to do things that otherwise people would not allow you to do.
KMV: So, you work with designers?
GL: Yes. The designer would ask me to make a piece and that's what I do. Passad also has in-house designers. Michael Caling, an Ilonggo, curates my works.
KMV: What's the worst thing that could happen to you in this trade?
GL: Become stagnant.
KMV: Are you a creative person by nature?
GL: Well, let's say I have common sense. I know what is ugly and what is beautiful.
KMV: What would you consider as your biggest challenge?
GL: Attracting the Ilonggo market. Ilonggos think that if it's Ilonggo-made, it looks like something you buy from Central Market. I feel sad about this mentality.
KMV: Are you proud of the Ilonggo talent?
GL: Yes. When I give out my calling card, I'm feel proud to let people know that some of the best furniture made in the world were made by Iloilo-based Passad. I think that's what we lack. We are not proud of what we have. We have no pride as a people or on what we can do. But then, it's partly my fault because I seldom join shows here. But I will definitely do a show here soon.
KMV: Are you going to do a show soon?
GL: Yes, the Asean Furnishings Circuit on April 15 to 18 in Manila. I'll be there because Citem invited Passad to be a frontliner because we are an award-winning company. Its curator is Milo Naval, who is one of my furniture designers. At the Manila Fame 2008 on October, my concept would be organic. I am also one of the frontliners as well as compete there.
KMV: What is your dream project?
GL: To do a resort or hotel lobby in Iloilo City. You see, I'm more known outside of Iloilo City. One of my projects is Hacienda Escudero.
KMV: In Iloilo, where are your works found?
GL: At the lobby of the Iloilo City Convention Bureau and Coffee Break, both at the Iloilo Airport.
KMV: I understand, Passad has an advocacy on women.
GL: Yes. Most of our workers are women because I believe in empowering them. Filipinas, when not educated become abused. Now that they are earning, they can take good care of themselves better. Thus, I made it my crusade to hire women.
(Gemma Lee is married to Anto Lee. They have six children. Running is her hobby).