For reportedly not heeding the demand for "revolutionary taxes," members of the communist News People's Army (NPA) burned two delivery trucks of a local businessman.
The incident occurred late Sunday night in Brgy. Balikwa, Tubungan, Iloilo, one of the known "Red areas" in Southern Iloilo.
The city government of Iloilo and the National Food Authority (NFA) here agreed to join efforts in monitoring the selling of NFA rice in the market.
Vice Mayor Jed Patrick Mabilog, who is now the city's OIC mayor on Monday called for a meeting with the National Food Authority (NFA), Department of Trade and Industry (DTI).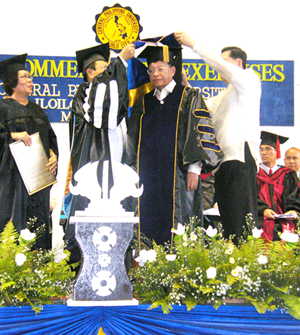 Photo by Rufino Gonzales II
Chief Justice Reynato Puno on Sunday called on graduates to live and work for great ideals and to serve the country as they enter a new phase in their young lives.