They came walking slowly with canes. Others were brought in wheelchairs or held by their loves.
Despite their wrinkled faces and gray hairs, they proudly displayed their medals pinned to their blue uniform vests as they tried to stand firmly while saluting old friends and colleagues.
The government would soon settle its obligations with the war veterans. This was assured by Department of National Defense undersecretary Ernesto Carolina during the commemoration of the 63rd Anniversary of the Liberation of Panay and Romblon yesterday.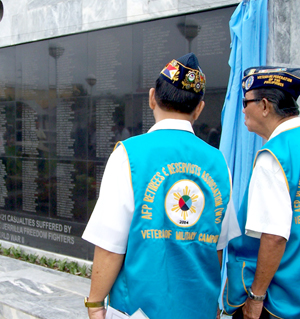 ronilo pamonag
In observance of the Holy Week, the Sta. Ana Parish in Molo District will present a musical Lenten show entitled "Bakit Ako Panginoon" to awaken and deepen the faith of the people and enhance the impact of this season through songs.