Department of Energy (DOE) Visayas Field Office Director Antonio Labios yesterday assured the public that taxis using Liquefied Petroleum Gas (LPG) fuel are safe and not hazardous.
Labios said the use of LPG fuel is being promoted by the government. The auto-LPG taxis are safe provided it is using the "right equipment," said Labios.
It seems City Councilor Erwin "Tong-Tong" Plagata was left out in the current campaign against illegal drugs. Members of the media yesterday was surprised upon knowing that Plagata, who chairs the Sangguniang Panlungsod committee on police matters, was not one of those who comprise the Iloilo Iloilo City Anti-Drug Abuse Council (Icadac).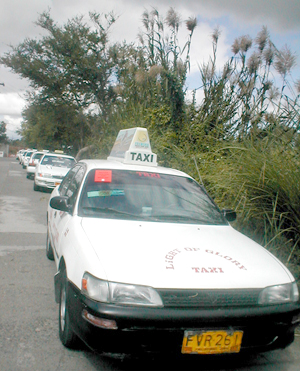 a. chris fernandez
An otherwise routinary mealtime at the Iloilo Rehabilitation Center (IRC) turned into a crime scene yesterday afternoon. This as two murder suspects out on settling an old grudge with a fellow inmate chanced upon the target and took turns in stabbing him.
Attending medical team described seeing an "ice pick-kind of wound" however The News Today (TNT) was told that the weapon used was an improvised knife.