Chief Superintendent Isagani Cuevas, Police Regional Office 6 director, yesterday confirmed that he has already initiated the reassignment of two policemen suspected of having involvement to illegal activities particularly the proliferation of illegal drugs. He, however, refused to divulge the identities of the two cops.
They do not want to be held "hostage" over the issue yet for the Metro Iloilo Water District (MIWD), it would be make or break come Tuesday.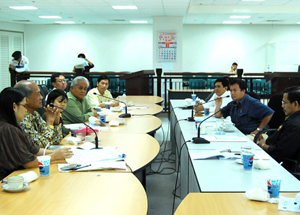 a. chris fernandez
The Philippine Tourism Authority (PTA) has struck back at critics of the controversial markings on a drainage system and other projects on Boracay Island, accusing them of diverting attention from the "real" issues on the island.