City officials led by City Mayor Jerry Treñas last Friday issued a statement of support to Pres. Gloria Macapagal Arroyo, but they said it was not a sign of panic on the part of the administration.
Philippine Tourism Authority (PTA) general manager and chief executive officer Robert Dean Barbers denied over the weekend a report that he had his name removed from controversial markings etched on a PTA project on Boracay Island.
"As I said, there is nothing wrong with it. Why would I order it removed?" Barbers said in a telephone interview.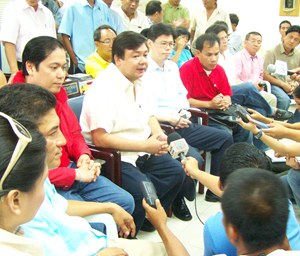 A.CHRIS FERNANDEZ
Three kids perished in a fire in Brgy. Kaingin in La Paz district Saturday morning.
The Bureau of Fire Protection is still investigating the cause of the fire that destroyed three houses and damaged one at around 6 a.m.