The Sangguniang Panlalawigan (SP) has prevailed over Gov. Niel Tupas, Sr. with regard to the approval of Appropriations Ordinance 2008-01-a embodying the province's Executive Budget for this year.
In a sign that Malacañang is cracking the whip to restore order in the island-resort of Boracay, an undersecretary of the National Security Council has been appointed head of the group supervising the development of the island.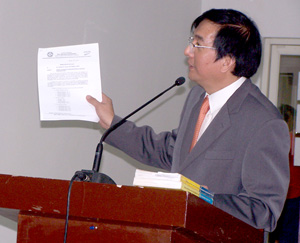 A.CHRIS FERNANDEZ
Customers of flesh trade in the city must have been enjoying their usual routine as there is no recorded HIV (Human Immuno-deficiency virus) case in Iloilo City in 2007. The only sexually transmitted infection recorded among the Registered Female Sex Workers (RFSW) and female Freelance Sex Workers (FLSW) here is syphilis.