Iloilo City is one of the cities in the country identified as "hot spot area" for business process outsourcing (BPO) or call centers as reflected in a multi-million dollar study funded by the Association of Call Centers in the Philippines.
Since year 2003 up to the present, Western Visayas and the rest of the country remain bird-flu free, according to DrLeriza Balopenos, regional animal health coordinator of the Department of Agriculture in Region VI during the PIA-CATV program, stressing that all laboratory tests yielded negative results for the Avian Influenza virus.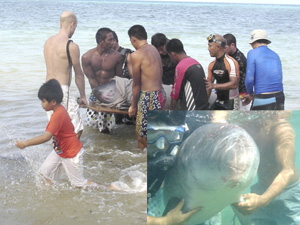 Photo Courtesy of Mike Labatiao
Residents and tourists of Boracay Island on Tuesday took a break from the pleasures of the world famous island-resort to help save a wounded young dolphin which straggled near the island's shores.
The two-meter-long dolphin, identified as a pilot whale by dive instructors, was first seen around 2:30 p.m. Tuesday near the shores of Sitio Bulabog in the village of Balabag at the opposite side of the white beach. The area is popular for water sports like wind surfing and kite boarding.