Mayors all over the country will meet with President Gloria Macapagal Arroyo today (Monday) to discuss the "expected cut" in their Internal Revenue Allotment (IRA) since the Supreme Court (SC) has yet to decide on their motion for a temporary restraining order regarding the conversion of 18 municipalities into new cities.
Ilonggo Catholic faithful will hear Latin Mass for the first time in decades at the parish of Mandurriao District here.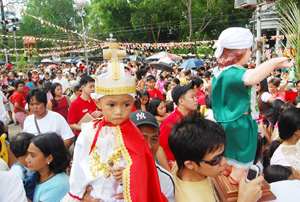 A.CHRIS FERNANDEZ
Such appear the choices now for locals in at least two villages in two towns of the province of Iloilo. Subjects of latest harassments and extortion activities reportedly by ragtag members of the communist New People's Army (NPA), the Armed Forces of the Philippines (AFP) here were called anew to protect the area.