With his voice cracking and at times teary-eyed, Iloilo Gov. Niel Tupas Sr., yesterday led hundreds of employees of the Iloilo provincial capitol in commemorating the first anniversary of the controversial police assault on the building.
The National Transmission Corporation (Transco) is on the process of expanding its Cebu-Negros grid to improve the power supply in Western Visayas, particularly in Panay island which is at the farthest end of the grid.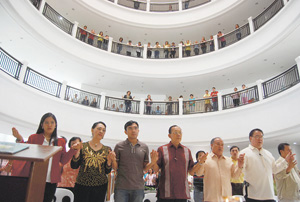 A.CHRIS FERNANDEZ
Tribu Ivatan of Batanes will participate in the Sadsad sa Parian procession on Sunday morning. The group will join the three Dinagyang tribes from Molo – Tribu Parianon, Tribu Silak and Tribu Kalubihan – and the drum and bugle corps and drum and lyre corps of different schools in Molo district.