Edgar Sia: The man behind Mang Inasal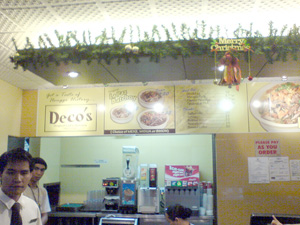 Deco's Valeria Branch
* Sia recently received the Urban Leadership Award from the Canadian Urban Institute (CUI)
Edgar "Injap" Sia II is the man behind Mang Inasal, one of the fastest growing food companies in the Philippines, which has become a modern icon of the Ilonggo culinary culture.
His parents gave his the nickname Injap because Sia is originally from China while Jaruda, his mother's name, is originally from Japan. Injap stands for Intsik-Japan. His parents are businesspersons and it was expected that he take up some business-related course in college. He took up Architecture instead.
Sia's first taste of running a business was when he was 20 years old. It was at the Four-Season Hotel, followed by Mister Labada, a Laundromat, then Injap Color Express, a photo developing shop. All these are based in Iloilo.
Then, he cooked up the idea of operating Mang Inasal, the specialty of which, is grilled chicken. It opened on December 12, 2003.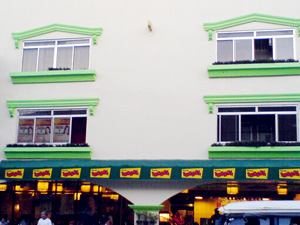 Mang Inasal Valeria Branch
Mang Inasal was instantly loved by Ilonggos. Then, it branched out to the rest of Visayas, Mindanao and Manila. Mang Inasal is well-received there, too despite the stiff competition in the grilled food business. The secret, of course is the use local herbs and spices that make the chicken taste good. The chicken is held by a bamboo stick and the rice is wrapped in bamboo leaf.
Mang Inasal has 23 branches, with 10 being franchised. Sia is targeting 100 outlets by 2009. It was open for franchise in 2005.
Each store employs an average of 40 people, thus generating jobs in the communities where they operate. This has become a market for local products needed by the store.
Grilled chicken isn't the only fare that Mang Inasal offers. They have Sisig, Grilled Pork, Bangus, Chicken Feet, Wings, Pecho, Liver and Baticulon, Fish and Pork Sinigang, Batchoy, Bihon, Pancit Molo, Pinoy Burger, Pinoy Mirienda, Pinoy Panamis, Pinoy Pampagana, and more.
After the success of Mang Inasal, Sia revived Deco's last September 2007, considered as the original batchoy. It has branches in Delgado, Robinsons Mall and Gaisano City.
Sia recently received the Urban Leadership Award from the Canadian Urban Institute (CUI). This is the second holding of the Urban Leadership Awards. This honors those who have made outstanding contributions to the enhancement of the public realm and the quality of life in the Metro Iloilo-Guimaras area.
There are 10 awardees from Iloilo City. They are Sia, Henry Baviera, Sonia Cadornigara, Ma. Luisa "Marissa" Segovia, Edgar Sia for individual awardees and Iloilo Dinagyang Foundation Incorporated, Iloilo Washington Commercial, Jaro Archdiocesan Social Action Center (JASAC), SM Waste Market Fair, Taytay sa Kauswagan and Callbox, for the organization awardees.