Believe it or not but out of at least 50 language training centers in Iloilo City catering to visiting Koreans, only one is duly licensed and authorized to operate. And with some twenty more under construction or newly-opened.
Iloilo City Prosecutor Efrain Baldago who was earlier ordered dismissed by Malacañang for graft has filed graft charges against his boss, Justice Secretary Raul Gonzalez Sr.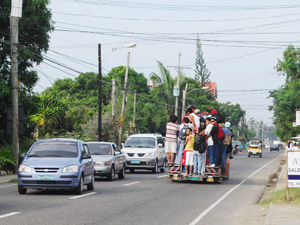 A.CHRIS FERNANDEZ
Most of public transport in the provinces of Iloilo and Aklan stayed off the streets yesterday in the first day of the two-day transport strike against oil price increases.