Military and police units in Western and Central Visayas declared their continued support to Arroyo administration amid the holding out of the group of Sen. Antonio Trillanes IV and Brig. Gen. Danilo Lim at the Manila Peninsula hotel yesterday.
Both military and the police in Iloilo and throughout Western Visayas may have been in full red alert status yet hours after another revolt made the news late yesterday morning, it was business as usual for the Ilonggos..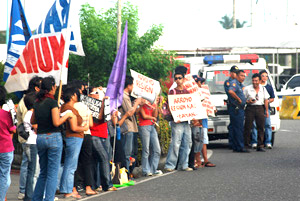 A.CHRIS FERNANDEZ
The League of Cities in the Philippines (LCP) condemns the military adventurism of former Scout Ranger Regiment Commander Brig. Danilo Lim and former Navy Lieutenant turned Senator Antonio Trillanes after they walked out from their court trial in Makati City and staged another destabilization plot against the government.
In a fax message, the league through its president Mayor Benhur Abalos denounces the "act of destabilization perpetrated by a faction of the Magdalo group against the duly constituted government as they expressed full support to President Gloria Macapagal Arroyo."