The Sangguniang Bayan (SB) of Ajuy, Iloilo came to the rescue of Vice Mayor Ramon Rojas and Councilor Pepe Dumayao who were earlier tagged by Iloilo Governor Niel Tupas Sr. as protectors of illegal fishing in their town.
Justice Secretary Raul Gonzalez Sr. called on certain city officials to stop meddling in the forthcoming election of Sangguniang Kabataan (SK) federation president.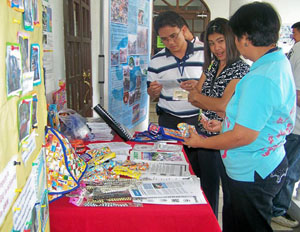 PIA 6
A modern hydro-meteorological observation and communication equipment designed for the provision of early disaster warning is underway for the Province of Iloilo.
Set for implementation in a project dubbed "Early Warning and Monitoring System for Disaster Mitigation in the Philippines," project sponsor is the Korea International Cooperation Agency (Koica).