Marine scientists have recorded a 65 percent drop in fish abundance from the waters of Guimaras following last year's massive oil spill that ravaged the island-province.
A militant national fisherfolk alliance has urged Congress to pass a comprehensive rehabilitation law for Guimaras Island after scientists reported a massive drop in the fish supply in the waters of the province.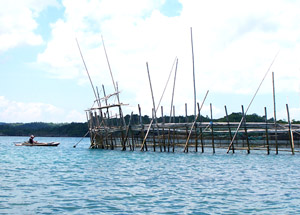 A. Chris Fernandez
The Iloilo City Government will soon start major make-over on the holding of fairs and fiestas in public plazas of various districts.
As such, there will only be "clean, family-fun and entertainment" meaning no more instant mini-videoke stalls with guest relation officers. It would also be goodbye to beers and other alcoholic drinks in public. And to preserve the dignity and sanitation of the celebration, no more 'ukay-ukay' as well.