Lawyer Dennis Ausan, Comelec director in Western Visayas, said they received complaints and reports of voters who could not find their names in the official list of voters in the polling precincts.
Jailguards from the Iloilo Rehabilitation Center (IRC) recaptured late afternoon Tuesday the 17-year old detainee who escaped while throwing garbage outside IRC in the morning of the same day.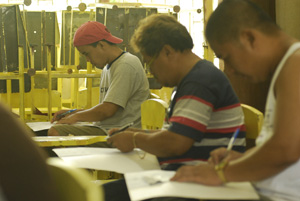 A. Chris Fernandez
The "by-chance" arrest, according to police, came after information reached authorities on the gift-giving activity of the group. While highly proper and legal to be generous in this town, cops apparently had to do the arrest with the four young men identified to a reelectionist barangay official here.