Groups that were part of a broad multi-sectoral movement that helped oust former president Joseph Estrada called for the rejection of a presidential pardon on the former president.
Efforts to convert the road section in Igbaras, Iloilo where the unfortunate Songsongon tragedy occurred will have to wait till further notice.
This, as official guidelines in barangay road conversion to that of a provincial road was discovered to be unavailable and "not existing."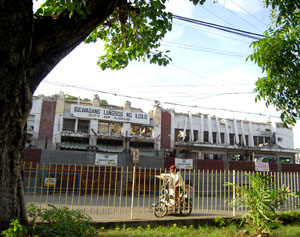 A. Chris Fernandez
Mangroves continue to die on Semirara Island in Antique, almost two years after a massive oil spill hit the island.
A survey conducted by the Department of Environment and Natural Resources (DENR) in Western Visayas office showed that 895 mangrove trees covering 45.84 hectares have died. The number of dead mangroves in Semirara is higher than those reported on Guimaras Island which was also battered by a massive oil spill last year.