Government's Philippine Health Insurance Corporation (PHIC) has now publicly disclosed strengthened and widened investigation on significantly huge claims of cataract cases in Western Visayas.
Reports of fraudulent claims in cataract cases in Western Visayas has now brought into the limelight hospital executive Evangeline Camarista-Johnson. Chief Executive Officer of at least three private hospitals under three different corporations, Johnson met members of the local media on the controversial issue of cataract cases and the claims made with Philippine Health Insurance Corporation (PHIC).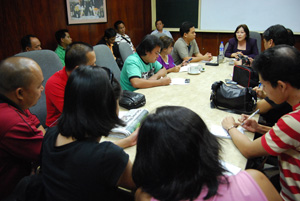 The Philippine Academy of Opthalmology (PAO) said it has been trying hard to stop what it sees as unethical practices in cataract operations paid by the Philippine Health Insurance Corp. (PhilHealth).
But it blamed PhilHealth for the continued unethical practices of ophthalmologists especially in Western Visayas.
"We have been trying to get PhilHealth to impose the necessary sanctions for years but it seem there is lack of political will to do so," said Dr. Maria Dominga Padilla, PAO national president, in a text message.
Dr. Mary Katherine Rivera-Francia, PAO Western Visayas chapter president, said the practice of cataract operations being investigated by PhilHealth "has put the whole profession in a bad light."