Government intervention is now in full blast on the dreaded Brontispa pest that threatened the coconut industry in Western Visayas.This, as thousands of coconut trees were treated and thousands more remain guarded in at least three provinces of the region.
Police yesterday presented to the media the fourth suspect in the killing of local television newscaster Chris Misajon three years ago.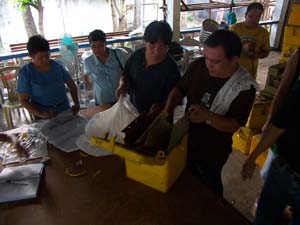 The City Commission on Elections (Comelec) has requested its central office for 61 additional ballot boxes for the synchronized Barangay and Sangguniang Kabataan elections on October 29, 2007. In yesterday's inspection the City Comelec found out that only 1,139 ballot boxes are available for the coming electoral exercise.