City Mayor Jerry Treñas prefers to leave to the district presidents of the different Association of Barangay Captains in the city the issue on whether to heed or not the appeal of the priests to put an end to the practice of enclosing public plazas during district fiestas.
As government troops were conducting a hot pursuit operation against the rebels led by Elver Buencuchillo aka Ka Jess, the Civil Relations Unit assured that it will be giving a safe conduct pass for the medical treatment of the wounded rebels.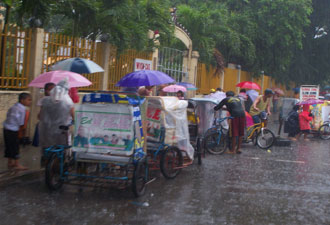 The National Economic and Development Authority (NEDA) here in an official stand has now recommended for the review and re-examination of the P350 million Capitol Convention Center.
Submitted by NEDA Region 6 Officer-in-Charge Arturo Valera, the NEDA report is now with Board Member Arthur Defensor Jr. (Third District), chair of the Sanggunian Panlalawigan (SP) Committee of the Whole.
This, as the SP body concludes its public hearing with the next days set for final deliberation of the Committee. Defensor Jr. in an earlier interview told The News Today (TNT) that no more additional hearing days are needed with inputs gathered thus far already substantial.