Provincial Administrator Manuel Mejorada and Provincial Legal Office chief Atty. Salvador Cabaluna still enjoy the trust and confidence of Governor Niel Tupas Sr. despite the explosive disclosure of Vice Gov. Rolex Suplico the other day that the positions held by the two officials are deemed vacant by the Civil Service Commission (CSC).
The Lower House-backed resetting of polls is neither good news or bad news for Board Member Angel Briones.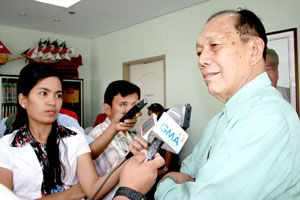 Nelson Robles/Capitol
Law-enforcers are having difficulty implementing the Human Security Act because of the stringent requirements imposed by the law, according to the spokesman of the government's Anti-Terrorism Task Force.
Undersecretary Ricardo Blancaflor said no anti-terrorism cases have been filed nearly two months after the HSA (Republic Act 9372) because policemen and prosecutors have to show proof that the three basic elements that will make a crime a terrorist act are present before cases are filed against suspected terrorists.