The Office of the Ombudsman is beefing up its offices in the Visayas to strengthen its anti-graft campaign.
Mayor Jerry Treñas encouraged city residents to practice composting of bio-degradable materials to lessen the waste materials transported to the Calajunan dumpsite. He said it is very easy to compost the bio-degradable materials particularly the household wastes.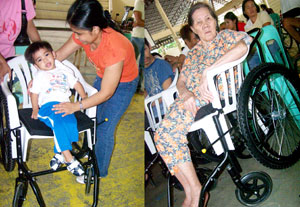 Photo courtesy of Arnold Almacen
President Macapagal-Arroyo has dissolved the regional task force on the Solar I oil spill.
Outgoing Presidential Adviser for Western Visayas Rafael Coscolluela said the President has issued Administrative Order 191 which abolishes the Task Force Solar I Oil Spill (TF SOS) to streamline procedures related to the implementation of rehabilitation programs for areas affected by last years massive oil spill in Guimaras.