The surviving families of the victims of the Songsongon overflow tragedy in Igbaras, Iloilo last October 2, 2006 have called on the National Disaster Coordinating Council (NDCC) to release the financial assistance it pledged, through the Regional Disaster Coordinating Council (RDCC), last year.
City Mayor Jerry Treñas yesterday warned internet cafes operating without business permits to comply with Regulation Ordinance 2001-185 otherwise they will be padlocked.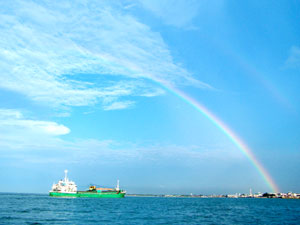 A.CHRIS FERNANDEZ
Mayor Jerry Treñas cited the role of barangay tanods in the maintenance of peace and order.
"We do not have enough police personnel to assign in each barangay so the initiative of the tanods to watch over their respective areas is a great help," a press statement from the City Hall's information office said, quoting what the mayor said during last week's meeting of the Iloilo City Peace and Order Council (ICPOC).
According to the statement, the mayor pointed out that the city's police force works in shifts, and cannot possibly cover each of the city's 180 barangays.