Small fishermen are calling on the authorities to investigate the cause of the fish kill which occurred in Iloilo River beginning last Saturday.
The Oton police is preparing a criminal complaint for frustrated parricide against an octogenarian for hacking his elderly daughter.
SPO3 Eduardo Rosa said that 84-year-old Ricardo Turija hacked and seriously wounded his unmarried daughter, Soldelita, 57 years old, at their house in Barangay Cagbang Sunday.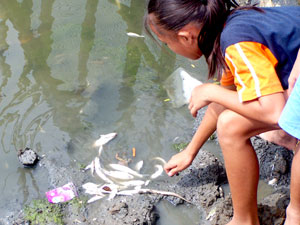 A.CHRIS FERNANDEZ
A 'Private Detective' cum agent of a detective and security agency was indicted for violation of the Commission on Elections (Comelec) Gun Ban in an incident that rocked this province a month before the May elections.
Contained in an Amended Consolidated Resolution of five complaints, Provincial Prosecutor Luzermindo Calmorin found merit on the case against Rommel Sanchez alias Ramil Sanchez.