'The acting Justice Secretary's decision to subvert the findings of his city and regional state prosecutors at my expense is another capricious exercise of borrowed power and a grave abuse of discretion resulting to injustice notwithstanding his lack of confirmation by the Commission on Appointments.'
The head of the regional task force on the Solar I Oil Spill is requesting President Macapagal-Arroyo to direct the fast-tracking of the release the bulk of rehabilitation funds intended for victims and affected areas of last year's oil spill in Guimaras.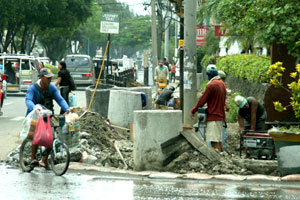 A. Chris Fernandez
Ghosts from the past hounded anew a former Iloilo town mayor, lady vice mayor and eleven others following the reinstatement of murder raps in a celebrated killing three days before the 2001 elections.
Facing murder charge with no bail recommended, arrest order has been reissued on former San Joaquin Mayor Sebastian 'Bastek' Serag. Meanwhile, bail was set at P200,000 for other co-accused including former San Joaquin Vice Mayor Marilyn Silfavan charged as accomplice to the killing.