The Armed Forces of the Philippines (AFP) through the 32nd Civil Relations Group (CRG) based in Iloilo City has disclosed the list of victims of extrajudicial killings in Western Visayas allegedly perpetrated by the Communist Party of the Philippines (CPP) and its armed wing New People's Army (NPA) which they will submit to the proposed summit that will look into killings and abductions in the country.
Court sheriffs in Iloilo will hang protest streamers to condemn the killing of one of their colleagues last week.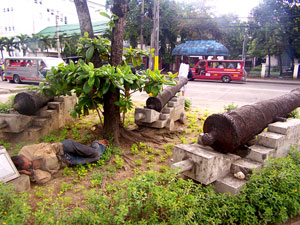 A. Chris Fernandez/File
Not that easy. This seems to be the sentiment of the members of the board of the Metro Iloilo Water District (MIWD) on the plan of Mayor Jerry Treñas to privatize the water utility.
The entire board of MIWD led by its chair Atty. Norberto Posecion yesterday met with members of the media to air their side on the privatization issue for the first time.
The other members of the board who met the press were Atty. Eduardo Aguillon, vice chairman; Atty. Florecita Gelvezon, corporate secretary/treasurer and board of directors Andres Jamora, Ma. Luisa Segovia; Celso Javelosa and Engr. Timoteo Villaroman.