The Parish Pastoral Council (PPC) of Molo has asked the intervention of the city government on the expected proliferation of commercial kiosks and carnivals inside and outside of the Molo plaza relative to its upcoming district fiesta on July 26.
Barely a week after Antique officials took office, losing gubernatorial candidates have filed a petition to annul the proclamation and oath of office of Gov. Salvacion Zaldivar-Perez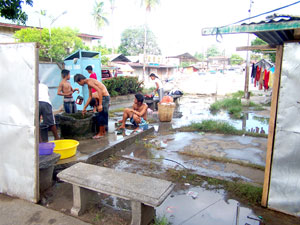 A. Chris Fernandez
Representatives from the Association of Barangay Captains (ABC) in Molo yesterday met with the parish priest of St. Anne Parish to ask for a consideration with regard to an earlier resolution passed by the Parish Pastoral Council (PPC) calling for the regulation of commercial activities in Molo plaza.
ABC Molo District President Segundina Morales along with Barangay Captains Leo Aristoza of North Fundidor and Jocelyn Hormina of Taal sought audience with parish priest Rev. Fr. Tom Delicana to discuss things relative to the holding of carnivals and commercial activities inside and outside the Molo plaza as part of the district's upcoming patronal fiesta.