Citing poor business environment, employers in Iloilo and Guimaras are offering a maximum P15 increase in the daily minimum wage of workers, way below the P75-P125 being demanded by labor groups.
Representatives of employers groups who attended a consultation of the Regional Tripartite Wage and Productivity Board (RTWPB) yesterday said that granting an increase more than this amount could risk the collapse of the local economy.
Iloilo Convention and Visitors Bureau (ICVB) reportedly agreed to stop distributing flyers to a certain taxi group imposing P80 gratuity fee in addition to the metered taxi fare in going to the new Iloilo Airport in Cabatuan.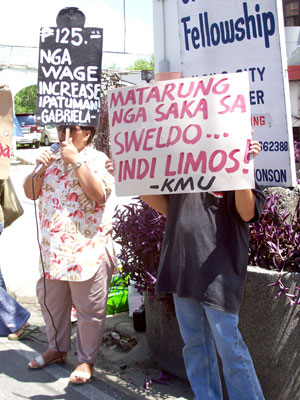 Nestor P. Burgos Jr.
Iloilo Governor Niel Tupas, Sr. vowed to spearhead the re-engineering of the provincial government during his last and final term to make it truly responsive to the needs of the Ilonggos.
Tupas made the declaration during his inaugural speech in the maiden session of the ninth Sangguniang Panlalawigan (SP) yesterday which was presided by his estranged nephew Vice Governor Rolex T. Suplico.